YouTube 1000 Online Course
Ranking videos in YouTube search can help you get the traffic you need to start building your online business that makes you money while you sleep. Good videos that rank in YouTube search can do so much for generating traffic to your online business and world class ranking of videos can transform your online business into a money making machine.
I have been a YouTuber for just over 9 months now and I am already starting to see results. I have ranked lots of videos in youtube search some of them getting more than 50 000 views on a small YouTube channel. Now I want to share my secrets with you, so you can also create a YouTube channel that will change your life.
What we cover in YouTube 1000 Course
What we are going to cover in this course, video search engine optimization yes definitely, keyword research, writing great titles and descriptions for your videos, How to create clickable thumbnails, everything about video creation from writing a good hook to recording, editing and publishing your video.
Complete with real life examples of how we ranked videos on our channel when we were just starting our YouTube channel. Yes that's something else you will get in this course real life examples of how we did it, so you can see for yourself that it is possible to achieve these kinds of results.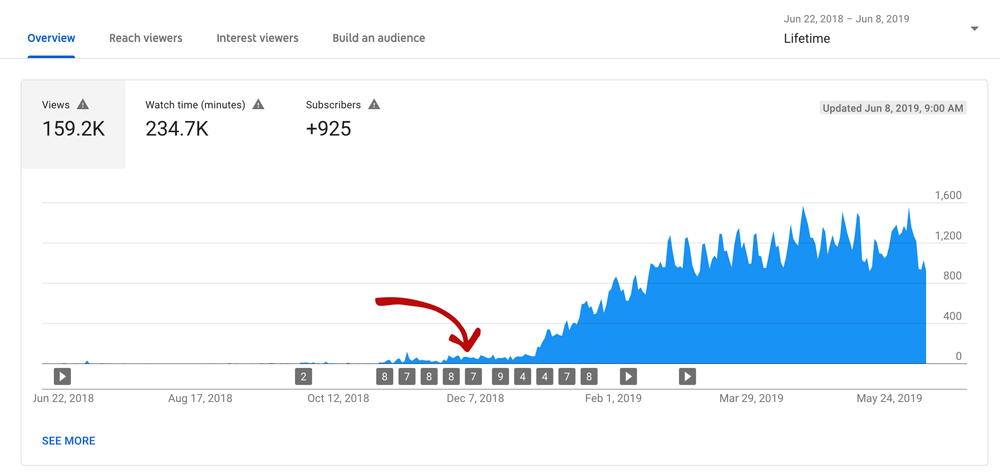 YouTube 1000 Course explained
Now wait a minute aren't there already lots of courses on ranking videos in YouTube search. Well yes there are and there are some excellent ones out there. So what is unique about this course. Well the others out there are simply about how they did it with hundreds of thousands of subscribers or even millions of subscribers. Now anyone with that many subscribers can easily gets lots of views on their videos. What this course is going to teach you is how to rank your videos in YouTube search so you can get thousands of views on a video even with a small channel and not having any prior technical SEO knowledge.
Who will benefit from YouTube 1000
If you want to start a Youtube channel and grow an audience that you can use to create an online business then you will benefit from learning how to rank videos on YouTube.
If you have started a YouTube channel and you aren't getting any views on your videos.
So will any person wanting to learn how to optimize their videos for search on YouTube.
This course will help you get more views on your videos and help you build an audience using YouTube.
I am available to answer all of your queries and questions about the course material and the technical aspects of ranking videos.
This course will grow and improve as we get more feedback from students about what is working and what isn't. It will also be growing and changing as YouTube grows and updates. This course is yours for life and you will have access to all the updates and improvements that we make.
Remember this is a teachable course so you have the security of a no nonsense 100% money back guarantee you have nothing to lose so join me right now for what I promise will be a fascinating journey.